TRAVEL GUIDE: KYTHIRA, GREECE
Henry Miller once said that "it takes a lifetime to discover Greece, but it only takes an instant to fall in love with her". I couldn't agree more. No matter how much I travel around the world, I can't help but feel that Greece combines everything a visitor could ask for: rich history, warm people, great food and plenty of sun! Those who follow me on Instagram already know that this summer I discovered a hidden paradise in Kythira, an island opposite the south-eastern tip of the Peloponnese peninsula in Greece.
Let me start by saying that Kythira is not easy to reach. It's not very fancy either. You will not find it in many foreigners or even Greeks' destination lists. But this is good news, especially if you're looking for a calm place to relax and enjoy the natural beauty. The island is rich in history as it has seen merchants, conquerors and pirates over the years due to its strategic location. According to some theories, Kythira is also the birthplace of Aphrodite, the Ancient Greek Goddess of love who also gave her name (Kythiria) to the island.
• I have to confess that before visiting Kythira, Lefkada was atop my list when it came to the most beautiful beaches in Greece. Well, not any more! Kyhtira had me at day one with its crystal clear waters; so clear in fact that you could see colorful fish running above your feet while you were swimming. Case in point: the breathtaking Fyri Ammos, a long beach with red sand and white pebbles near Kalamos village. Deep blue waters, really quiet, high cliffs, wild beauty at its best! If you visit, be prepared to ride a rather rocky and steep road and bring water as there are no amenities available.
• Other great spots to swim include Lagada beach (organized but still quiet – make sure you order a cocktail from the beach bar whose owner was the most fan person I met in the island), Kaladi beach (a bit remote compared to the others but still one of the most popular ones given its beautiful turquoise waters), Melidoni (a small but very popular bay with the fine sand which is organized – accessible by a dirth road by Drymonas village or boat by Kapsali) and Chalkos (somewhat less impressive than the rest of the group in terms of scenery but easily accessible by car and organized). 
• If you love nature, then a visit to the "Neraida" or "Fonissa" Waterfalls in Milopotamos village is a must. The waterfall itself isn't that big (around 20m or so) but if you don't mind the cold waters, take a dip – it's really refreshing. This spot is perfect for exploration as you can follow the water mills trail which leads you all the way through the forest from one location to another. Just bring your walking shoes and try to go early in the morning or a bit later in the afternoon to avoid the burning sun.
• Last but not least, go for a walk around Kythira's Old Ford (Palaeocastron) in Chora. Not only can you visit Aphrodite's temple but also enjoy a 360 view of the island. 
• My favourite restaurant in Kythira is Filio ("Φιλιώ"), a family-run Greek taverna that serves traditional dishes. They happen to make the best tiganopsomo, i.e. fried bread filled with feta and topped with fresh tomato from their garden. There's no website but you can easily find them by following the numerous signs once you reach Kalamos village. Platanos in Mylopotamos village also comes highly recommended both because of the food and its setting. Here you can enjoy a coffee under the shade of the plane trees duing the day or honest Greek food at night. Another good option is Michalis ("Μιχάλης") in Mitata, a charming village up in the mountains. The food in this family taverna is honest and homey; plus you get to enjoy a panormaic view of the island. For dessert head to Arachtopolio ("Αραχτοπωλείο") in Avlemonas, one of the most beautiful villages in the island. Their orange cake (portokalopita) topped with masticha ice cream is to die for!
• When I was planning my trip, a friend recommended Skandia ("Σκάνδεια"), a Greek taverna set in a garden at Paleopoli. This proved to be the worst meal we had during our stay and would not recommend it. The service was indifferent and the food was quite bad and not fresh by any means, so it felt like a rip-off. 
• Kythira is an island for relaxation, so don't expect the wild nightlife of Mykonos but rather smaller venues. My favourite spot for cocktails is Mercato bar in Chora, followed by Arachtopolio (see above) and Koukos bar in Kapsali.
• If you're looking for something more special, head to Zeidoros Art Space in Kapsali. There's a beautiful stone amphitheatre which hosts plays of live piano concerts. I was lucky enough to discover one of their piano nights and is one of the best memories I have from my trip. You can either sit at the amphitheatre or enjoy the concert from their bistro which overlooks the Old Fort of Kythira with a glass of wine and delicious nibbles (I had the Greek cheese platter which was really good!). Perfect for a romantic night!
• I left Kythira with two bottles of fatourada, a local liqueur made of tsipouro and spices, as well as the recipe itself. If you like sweet liqueurs or cinnamon, give it a try. Kythira is also famous for its ruks (paximadia in Greek), i.e. handmade twice-baked bread with olive oil. They're one of my favourite snacks in the whole world, so I couldn't resist stocking up from the local bakeries in Karvounades village.
• Kythira has its own flower, the so-called "sempreviva". It's a dainty yellow flower that remains fresh and in bloom long after it's picked it up, even without any water. Back in the day, the Venetians were so impressed by its eternal beauty that they called it the "sempre vivere" (always alive). Part of sempreviva's beauty lies in the fact that it's rare to find as it only grows in the rock island Chytra. The beautiful flowers are handpicked around May-June June by experienced locals only, who know how to climb the rocks of the tiny island. In Chora you can find numerous souvenirs with sempreviva – the perfect gift for your loved ones back home or a great reminder of your wonderful moments in the island.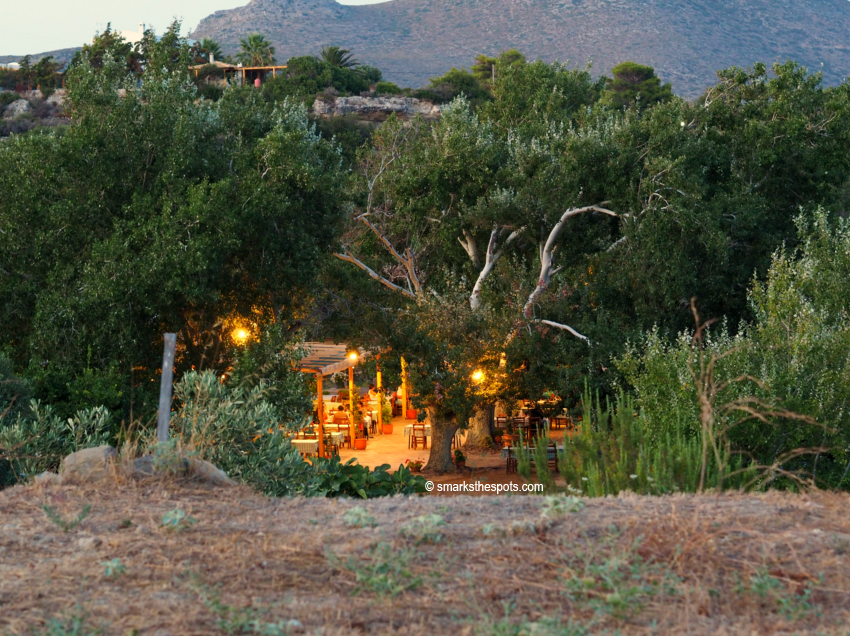 • Kythira is not easy to access; I've already said so. You have to either take a rather old  and slow boat from Piraeus or drive through Peloponnese all the way to the city Neapoli and take a boat which you need to book in advance. But remember: it's all worth it! What's more, you can combine a trip with a visit to beautiful Nafplio, Elafonissos island, Monemvasia or even follow my plan and go to Crete. But more on that on another post…soon!