MADE IN AMSTERDAM: A JOURNEY THROUGH THE NEIGHBOURHOODS (part I)
My love for travelling and discovering new places has been well documented on this blog. Living in Brussels makes it easy to visit quite often some of Europe's most beautiful cities, including Amsterdam. A few weeks ago I was lucky enough to explore the Dutch capital in a slightly different way together with I Amsterdam who invited me to take a tour around its vivid neighbourhoods and discover a few spots off the beaten path.
I was amazed by the diversity and special character of each area we got to explore – very different from the compact medieval centre, filled with creativity and really lively. I literally took hundreds of pictures from all the different places we got to visit and can't wait to share them with you. Be prepared for a few posts coming up with tips, starting with these great spots below!

 TONY'S CHOCOLONELY
This is one of the first spots we visited during our trip and a place whose story moved me the most. Tony's Chocolonely is a small fair trade company with a huge ambition: to contribute towards 100% slave-free chocolate, not only by them but also around the world. As a chocolate lover myself, I was heartbroken to hear how farmers in West Africa are exploited and children are allowed to work on cocoa plantations but also inspired to see a company raising awareness around the subject and setting an example as a business and showing the world that things can be done differently. During our visit to their factory I had the chance to try different kinds of chocolate and can confirm that they are delicious; not to mention the really cool packaging!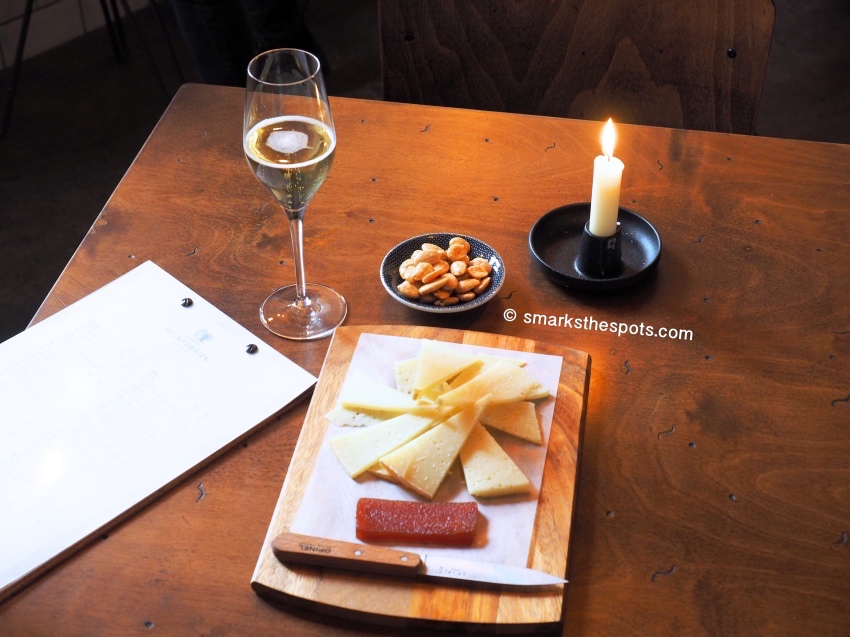 WESTERWIJNFABRIEK
After stuffing our faces with loads of chocolate, we visited this lovely wine bar nearby. Located in Westerpark, just west of the scenic Jordaan, Westerwijnfabriek can be found in the Westergasfabriek, a former gas factory turned into a cultural complex where festivals and other fun events take place. I loved the industrial vibe of this place which felt very cosy at the same time thanks to the warm welcome of the owners. After taking about a million pictures of the gorgeous space, we enjoyed a great wine tasting and nibbled on delicious snacks. I liked Westerwijnfabriek  so much that I'm actually going to write a whole post about it, so stay tuned for more pictures!

 WELMOED OF "REDERIJ DE JORDAAN"
A visit to Amsterdam wouldn't be complete without a boat ride around the canals, right? After walking the whole morning, we were happy to stretch our feet, float down the picturesque canals the see the city from a different angle. Our captain Reinhard welcomed us with bubbles, delicious snacks and a big smile and guided us through the Dutch capital, sharing interesting details on the city's history and architecture. This was hands down one of the highlights of our trip and I would definitely do it again given the chance! 

 NEW X BANK
Remember how I said that Amsterdam is bursting with creativity? Well, this spot is a good example. X BANK is a 700 m² hybrid store housed in a former bank building within the Red Light District, really close to the lively Nine Streets and Dam square, that presents Dutch designers from the world of art, fashion and design. I could have spent hours browsing through the items on display and was very impressed by the talent and unique vision of the creators. Definitely a place to check out if you're looking for something special whether it's clothes, accessories, jewelery, furniture or decor items.

 AMSTERDAM MUSEUM
Another activity I really enjoyed during our trip was our visit to the Amsterdam Museum where we took a guided tour of the exposition "Made in Amsterdam". The exposition brings together 100 works of art that showcase the most important artists, ideas and movements in the art world over the last century. It will be on until end of July and I couldn't recommend a visit enough, especially if you are an art lover. The building where the Amsterdam Museum is housed is also a sight in itself as it used to operate as a monastery in the Middle Ages and the City Orphanage later on. If you're looking for a calm spot for a coffee break, head to the Mokum Museum Café, a real oasis of calm. 

 IJ-KANTINE
One of the neighbourhoods that I got to explore for the first time during this trip was NDSM, an area originally used by as a shipyard that has turned into edgy art community. If you like Belrin or Brooklyn, hop a ferry (they're free) and get ready to discover one of Amsterdam's most dynamic creative hubs. After exploring the area for a while, we had a very filling lunch at IJ -Kantine, a brasserie on the banks of the Ij with a relaxed atmosphere. As you can see, their sandwiches are true beasts!   

 I AMSTERDAM STORE
Our very last stop was the I amsterdam store at Amsterdam Central Station. Normally I try to stay away for anything too touristy but this place was anything but this. While we were there both visitors and Amsterdammers would stop to find out about the current and upcoming events in the city, seek tips and get information from the lovely people working there or through iPads with access to the I amsterdam portal and other sites. I also couldn't resist buying a few tulip bulbs (don't judge, I love flowers!) to take back home with me.
So, voilà! Hope you got some inspiration for your next trip to the Dutch capital – a second post with more great spots is on the way, so watch this space! A huge thanks to the I Amsterdam team who showed us la crème de la crème of places and the lovely Shoshannah from Awesome Amsterdam. Her blog is full of tips and am really glad we took this trip together!