CHRISTMAS FUN IN ALSACE
This is officially the last post for this year and I couldn't think of a better way to add to the festive season than a few more pictures and tips from my trip to Alsace. You've probably already seen the little video as well as my photo diary from Strasbourg, so if you're inspired to visit this part of France make sure to check at least a few of the spots mentioned below!
Where to stay
We were lucky enough to be amongst the first guests of the 5 Terres Hotel & Spa in Barr and honestly, I'm so glad we stayed there. I actually liked the hotel so much that I'm going to write a separate blog post about it. Barr is a cute little village 10 km south of Obernai and on the famous Wine Route ("Route des Vins") of Alsace. The hotel is a great combination of historic and modern while service was really kind and helpful. Keep an eye on my upcoming post where I'll also show you the spa, a beautiful space to relax after a long day of exploring.  
Christmas markets to discover
There are numerous Christmas markets to visit in Alsace, so you will end up choosing a few if you only have a couple of days like we did. Most of the Christmas markets are on from the end of November until Christmas and stay open throughout the day but be sure to check beforehand.
My favourite was the medieval Christmas market in Ribeauvillé, the "Town of the Fiddlers". This is one of the most original Christmas markets I've visited  to date and I really enjoyed the various activities taking place: singing troubadours in medieval costumes, stilt walkers, dancers, plate spinners and other animators had  turned the town into a large playground. It's a great market to discover if you're curious to  see how Christmas was celebrated in days gone by and a really fun one if you visit with children.
Another great Christmas market was the one in Riquewihr, which is known to be one of the most beautiful villages in France. This picturesque little village with its half-timbered houses and narrow streets looks more or less as it did in the 16th century. It's a place I would love to visit again in spring, hopefully without the masses of tourists that we encountered this time of the year.
The Christmas markets of Colmar was the last ones we visited during our stay in Alsace. You may notice that I'm referring to the Christmas markets in plural, right? That's because there are five different ones in Colmar! We actually made it to three and I really loved the atmosphere and all their pretty stalls. I had been to Colmar during the summer a few years back and found it equally beautiful during winter, glowing  with  golden  lights  and magical decorations .
Wineries to visit
Ever since I got my first wine diploma last year I was itching to go back to Alsace and do some intensive wine tasting, so I was very excited to get busy while in Alsace! Overall, we visited four different winemakers who shared a lot about their history and wine-making art.
Domaine Bott-Frères in Ribeauvillé was the first winery we got to visit – a must for wine lovers if you find yourselves in the area. We were warmly welcomed at the family's caves and home where we enjoyed a lovely meal paired with wine. My favourite was the Crémant Brut Cuvée Nicole, a harmonious composition of Pinot Blanc and Pinot Gris produced using the traditional method. I bought two bottles which I'm planning to share with my family on Christmas.             
The second winery we discover was Domaine Dopff au Moulin in Riquewihr. Again the welcome was very warm and we got to try various wines, including one that dated 30 years back – the oldest I've ever tried before! Here the wine that won me over was the Schoenenbourg (La Belle Côte), a 2011 Riesling rich in flavour with high acidity. 
Last but not least, we visited the Domaine Hering in Barr. Also a family business, it was really interesting to visit the premises, and learn all about their produce, how well it ages and what makes it special. I loved so many different wines here and would absolutely recommend the  Gewurztraminer Grand Cru Kirchberg Vendages Tardives 2005 (simply amazing!) as well as the Gewurtztraminer Coteaux 2008 which would perfectly compliment exotic, spicy dishes. 
Restaurants to try
In between wine tasting and snacking on local treats from the Christmas markets, we visited three really good restaurants. I'm still dreaming about the tarte flambée we had at the Caveau Folie Marco in Barr (I love love love flammkuchen!), the fresh tuna tartare at La Table du Brocanteur in Colmar and basically, every single dish we had at L'Ami Fritz in Ottrott.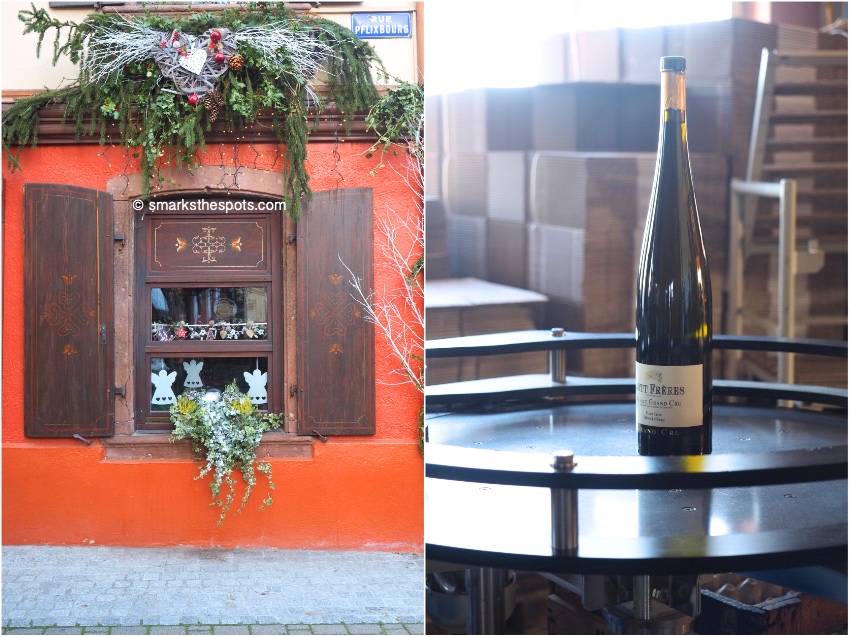 A huge thanks to Vins d'Alsace for having me, my fellow bloggers Vanessa and Marijs for the great company and all the wonderful winemakers I met for the interesting insights they shared with us. Until next time, Alsace!