BEST BOOKSHOPS IN BRUSSELS
Brussels has some truly great bookshops, some of them quite well-known and others cleverly hidden for those who know where to look. There's something really exciting about visiting a bookstore with a great range of books, so I've put together a list of my favourite spots in Brussels for all the bookworms out there! 

 COOK & BOOK
This spot is one of my favourite concepts in Brussels and definitely much more than a simple bookstore. Developed in several sections decorated according to a different theme, Cook & Book hosts an impressive range of books and dining spaces. I love spending time in the English, cooking and travel sections and their spacious terrace is a great place to spend a sunny morning. > Read the full review here <

 TROPISMES LIBRAIRES
Tropismes is a real gem hidden in a quiet part of the busy Galeries Royales Saint-Hubert. This bookstore is one of a kind; not only because of its great selection of books but also thanks to the stunning setting. Formerly a dance school for Brussels' elite and a famous jazz club later in the '60s, the space is a true work of art with its ornate ceilings and mirrored walls. The French literature and fine arts sections are particularly good. > Read the full review here <

 PTYX
Ptyx is one of those Brussels' spots that keeps popping up time and again on Pinterest. Well, I can totally see why! Apart from its beautiful facade, this little independent bookshop has a good selection of literature, comics, human sciences and children's books. If you are looking for something original and creative with a personal touch, that's your place. > Read the full review here <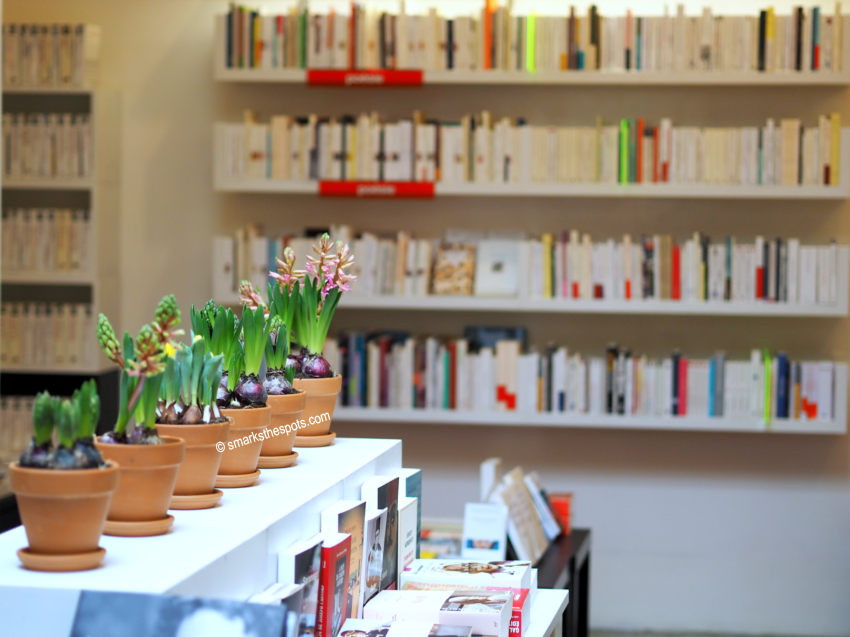 PASSA PORTA
Located on the trendy Dansaert street just minutes away from the Bourse in downtown Brussels, this bookshop is easy to miss as nothing reveals its presence but a small sign. Pass through the long corridor and you're immediately in an oasis of calmness in the middle of the city. Here you'll find books in several languages, including an impressive selection of novels and art books. Passa Porta also organizes literary events throughout the year, so keep an eye on their agenda. > Read the full review here <

 PIOLA LIBRI
Piola Libri is an Italian bookstore that combines two of my favourite things: reading and pasta. This spot is great for an after-work aperitivo and hosts a good range of Italian books both in their original language and translated in English, French and Dutch. Sit back, grab some antipasti, a glass of wine and enjoy a book the Italian way! > Read the full review here <

 CANDIDE
This is one of the bookstores I visit very often because of the good selection of literature books (mostly in French). The space is bright, modern, located in the beautiful Place Brugmann and open 7 days a week, which is quite rare in Brussels.    

 GALERIE BORTIER
This beautiful arcade is not a booskhop as such but houses a number of second-hand bookstores and art galleries. Get ready for a bit of treasure hunting and discover the wonderful novels that are hidden amongst the old postcards, prints and antique engravings. > Read the full article here <
Have you been to any of these places? Which are your favourite bookstores in Brussels?